March 4, 2016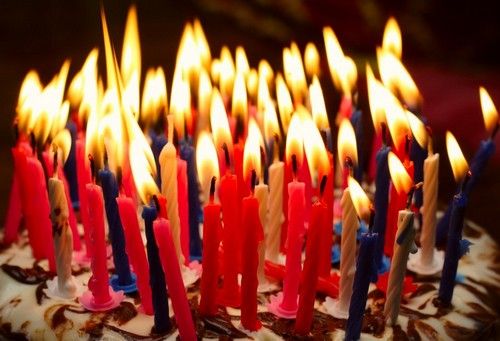 Psalm 90:8-10, 12, 14
(All scripture is from the New King James Version unless otherwise indicated.)
Today is my birthday!  Today I am 70!  It does not seem possible!  The last I looked I was a young man in my thirties!  How is it that time goes so quickly?  One rag put it this way:  "The reason time passes so quickly as you get older is that you pick up speed, and things go by a lot quicker……..when you're going down hill!"  Hey, there is truth to that!  I am going down hill!  I have aches and pains in parts of my body that 40 years ago I didn't know I had those parts!
But getting to a serious note, Psalm 90 has a lot to say about this time of life – or life in general.  Here are verses 8 through 10, 12 and 14.  And I reproduce this Scripture from the King James Version because I like old-fashioned way the language addresses seventy years in verse 10 – "…threescore years and ten…."
      Thou hast set our iniquities before thee, our secret sins in the light of
      Thy countenance.  For all our days are passed away in thy wrath:  we
      spend our years as a tale that is told.  The days of our years are three-
      score years and ten; and if by reason of strength they be fourscore
      years, yet is their strength labor and sorrow; for it is soon cut off, and
      we fly away….So teach us to number our days, that we may apply our
      hearts unto wisdom….O satisfy us early with Thy mercy; that we may
      rejoice and be glad all our days.
As I see it, the first part of this Scripture, before the first ellipses, deals with the life of a person before they come to faith in God.  Back in Moses' day – and Moses is considered the author of this Psalm – saving faith was achieved by believing in God's promises of redemption.  In these New Testament times, a person is redeemed when by faith he or she embraces the fulfillment of all the Old Testament promises – fulfilled in the Person of Jesus Christ!
Seventy or eighty years is a fairly long life span.  And God, in His mercy, "…hast set our iniquities before [us, even]…our secret sins…" (verse 8).  It would do well for us to listen!  For you cannot be saved if you do not understand you are a sinner – if you do not have anything from which to be saved!  Not only does God reveal our sins to us, but He also reveals His wrath upon us because of those sins!  But SomeOne else stepped in and took our place, bearing our sins and taking God's wrath – His own Son, Jesus Christ!  As it says in John 3:36, "He who believes in the Son has everlasting life; and he who does not believe the Son shall not see life, but the wrath of God abides on him."  Truly, a life that remains under the wrath of God is a life of labor and sorrow – now and forever!
"So teach us to number our days, that we may apply our hearts unto wisdom." (verse 12).  According to I Corinthians 1:24, "…Christ crucified…is the power of God and the wisdom of God."  So trusting Jesus Christ as your Savior is the wisest choice you can make!  And don't wait!  No one knows the day of his or her death – when we fly away, according to verse 10.  We will all fly away, but there are two destinations to that flight.  And they are pictured in Luke 16:19 through 31 – the Parable of the Rich Man and Lazarus.
•      Luke 16:22 – "So it was that the beggar [Lazarus] died, and was carried by the angels to Abraham's bosom."  This was the Jewish term for paradise.  Paul tells us in II Corinthians 5:8, "…absent from the body…[is] to be present with the Lord."
•      Luke 16:22-24 – "The rich man also died and was buried.  And being in torments in Hades…he cried and said…I am tormented in this flame."
Obviously, the wise choice would be to escape the flames of hell and gain peace and rest in heaven!  Because both are for eternity!
But there is one more point after the second ellipsis, and it has to do with the seventy or eighty years of this life:  "O satisfy us early with thy mercy; that we may rejoice and be glad all our days."  With Jesus as our Savior and Lord, we are partaking of God's mercy and grace!  And entering fully into His mercy and grace will give us satisfaction, rejoicing and gladness – even in the midst of troubles!  As Jesus told us in John 10:10, "I have come that they may have life, and that they may have it more abundantly." (See Galatians 5:22, 23).
As I said earlier, Moses wrote this Psalm.  Moses also wrote down in Deuteronomy 30:19 an admonition he received from God:
      I call heaven and earth as witnesses today against you, that I have set
      before you life and death, blessing and cursing; therefore choose life,
      that both you and your descendants may live….
Whatever your age, choose life!  Choose the Lord Jesus Christ!  It will bless your life both now and forever!  And it will bless generations to come!