August 4, 2017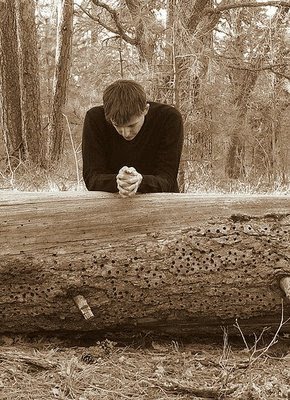 Isaiah 30:20, 21
(All Scripture is from the New King James Version unless otherwise indicated)
Elijah heard "…a still small voice…" – God's voice in I Kings 19:12.  It reflects what the Lord told Isaiah in Isaiah 30:20 and 21:
      And though the LORD gives you the bread of adversity and the water of
      affliction…your ears shall hear a word behind you, saying, "This is the
      way, walk in it." whenever you turn to the right hand or whenever you
      turn to the left.
The prophet had been through "…the bread of adversity and the water of affliction…" as he stood for Jehovah God against the increasing paganism of most of the Israelites.  Jezebel, the wife of wicked King Ahab of Israel, even threatened to kill him!  Elijah ran for His life – discouraged and depressed – all the way to Mount Horeb, where he hid in a cave!  That's where he heard God's still small voice encouraging him!
I had been through "…the bread of adversity and the water of affliction…," having left my growing church after two years because of burnout.  I and my wife and daughter were living in our cottage at Patterson Grove, the old Methodist campmeeting.  But the grove shut down in mid-October for the winter.  After that, we had no place to go, no house, no church, no income, no school for my daughter!  And I was told by those in the know that the process of placing ministers with churches through the American Baptist placement program took six months to a year – or more!
And so I was kneeling at a bench on Chapel on the Hill – the youth fire circle, in the woods just outside of the grove.  I prayed:
      God, I know you want me back in the ministry full time.  You do not want me
      to pursue what I have been training for – a career in insurance and securities. 
      But Father, we are running out of time!  It takes as least six months to get a
      church, and we don't have six months!  I have two months at the most, and our
      money won't last but maybe another week!  We have nowhere to live!  Our furn-
      iture is in storage, and our daughter needs to start school SOMEPLACE in just
      four weeks!  We are desperate!  If you are going to open something up for us,
      YOU HAD BETTER GET BUSY AND DO IT!  WE ARE RUNNING OUT OF
      TIME!
In the midst of my tirade, I heard God speak!  I knew it was Him.  It was a voice from without myself that I was physically hearing, and yet it was within.  It was quiet, yet it was a Loud Big Voice!  He asked, "Do you see the leaves on these trees?"  I replied, "Yes, Lord."  After all, I was in the woods, and the trees and leaves were obvious around me!  God continued, "By the time these leaves are off these trees you will be back in this place praising Me for what has already happened instead of looking anxiously ahead! "  With chills running up and down my spine, all I said was "Wow! "  And I began to praise and thank Him right there!
The next day, Friday, August 14, 1987, I left for the Men's Retreat at Susquehanna University in Selinsgrove, Pennsylvania.  I gave my testimony to the hundreds of men in attendance – a testimony of great ministry in my Oxford church, yet brokenness through being burned out and resigning.  Yet I told them I was waiting for my Lord to show me the direction of my ministry for the future.
The next day, Saturday, the area minister of Southwestern Pennsylvania introduce me to six men from Olive Branch Baptist Church – almost all the pulpit committee of that church that was seeking a minister!  After lunch we sat around one of the tables in the cafeteria and talked about many things.  We covered about six months worth of discussions – how long it would take if we had gone through the normal placement channels!  After an hour of conversation, Jim, the head of the pulpit committee, stood up and announced, "Well, we don't have to look any further!  We have found our next minister! "
They flew me out to preach in a neutral church so the pulpit committee could hear my presentation.  Then they invited me back to introduce me to the congregation and preach at Olive Branch Church so all the church folk could hear me.  I was unanimously voted in as pastor of Olive Branch Baptist Church!  They moved us out to Rostraver Township, transferring our stored furnishings to the parsonage across the street from the church.  On October 4th, just six weeks after hearing God's Strong Big Voice, I was at my new church as their pastor!  We had a house to live in, we had an income, and my daughter started high school just four weeks late!  This was a miracle of God's grace!  It cannot happen within the American Baptist system!  But it did!
On Sunday afternoon, November 8th, I drove across the state back to our cottage for two days.  Patterson Grove was shut down for the winter, and no one else was around.  My dog Kinky and I walked up the trail to Chapel on the Hill, and I knelt in the same place where I had prayed just twelve weeks before.  The leaves were now off the trees, and I was back in this same place, praising God for what had already happened instead of looking anxiously ahead – just as the Lord had said!
By the way, I was pastor of Olive Branch Church for almost 12 years – the longest church ministry I have had in my career!