August 9, 2017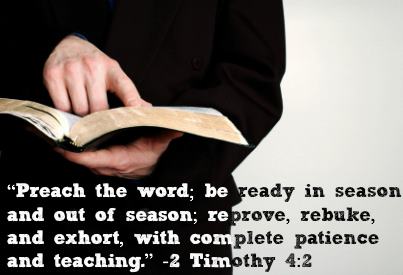 II Timothy 3:16-4:2
(All Scripture is from the New King James Version unless otherwise indicated)
Forty-five years ago my wife and I were in a crisis!  During my first year of Bible college we were attending a church whose pastor was becoming more and more legalistic, separatist, and dictatorial.  We made the decision to leave.  But, even though we searched – attending various other churches – we could not find one where we felt at home!  I had heard about Faith Community Church, a relatively new congregation that was meeting in an old grange hall.  What I found out encouraged me, so we attended one Sunday.  During the pastoral prayer, I heard the pastor say, "…and Lord, be with and bless all the congregations as they meet to honor your Son, no matter what name is over the door."  I poked my wife with my elbow, and whispered, "Did you hear that? "  It was so unlike the church where we had previously been a part!  It didn't matter to this pastor if a church had the words, "Independent, Fundamental, Bible Believing" on their sign out front, or not!  If they honored Jesus Christ as Savior and Lord, he was including them in his prayer!
We started regularly attending Faith Community Church and got to know the pastor, The Reverend Alton F. Olsen.  Pastor O, as he was fondly called, had been an Episcopal priest in Scranton for eleven years.  But he accepted the pastorate of Faith Community, a non-denominational start-up around 1970.  Pastor O became one of the hero's of my faith!  I loved him, his wife Jacqi, and the church family of Faith Community!  Hope and I joined the church, becoming members 99 and 100.  But just five months later I was called to be the pastor of my first church, about 180 miles away.  It broke my heart to leave.
I served First Baptist Church of Johnsonburg, Pennsylvania for four years.  But I still didn't know if I wanted to be a pastor for my life's work.  So I resigned First Baptist and moved back to the Scranton area to develop a product fund-raising business – working with schools, scouts, auxiliaries – any group that wanted to raise money for their activities.  Hope and I also rejoined Faith Community Church – now in a new building, and three times the size when we left four years before!  It felt to me as if we had come home!  We maintained a relationship with that church through two other of my pastorates over almost eight years in the Scranton area.
I said before that Pastor O was one of my faith heros!  I remember sitting in services, enthralled with his teachings!  One evening service in particular, his sermon went on for an hour at least.  When he ended, I was surprised.  "Is that all? " I asked myself.  I looked at my watch and could not believe more than an hour had passed! It seemed like fifteen minutes!  Pastor O's sermons were deep, relevant, and easy to understand.  Obviously, he did his preparation!
I chose II Timothy 3:16 through 4:2 for this blog's featured Scripture:
      All Scripture is given by inspiration of God, ind is profitable for doctrine,
      for reproof, for correction, for instruction in righteousness, that the man
      of God may be complete, thoroughly equipped for every good work.  I
      charge you therefore before God and the Lord Jesus Christ….preach the
      word! Be ready in season and out of season.  Convince, rebuke, exhort,
      with all longsuffering and teaching.
Pastor O fervently believed the Bible was the answer to all the questions of life!  In one way or another – by direct commandments and teaching, by example, by parables, by inference – Scripture deals with everything with which life can challenge us!  Indeed, he knew that "All Scripture is given by inspiration of God…."  And by diligent study and application of the truths mined therein, Pastor O was confident that "…Scripture…is profitable for doctrine, for reproof, for correction, for instruction in righteousness…."  He worked hard to prepare "…the [people]…of God…[to] be complete, thoroughly equipped for every good work."  And so he "…preached the word! "  He was "…ready in season and out of season…[to] Convince, rebuke, exhort, with all longsuffering [patience] and teaching."
Over the last forty-five years, I have tried to model my ministry on the example set for me by The Reverend Alton F. Olsen.  I do not copy him exactly, because we are all individuals with our own strengths and weaknesses.  But the apostle Paul made a very bold statement in I Corinthians 11:1 (King James Version)!  He told the Corinthian Christians, "Be ye followers of me, even as I also am of Christ."  One must seriously follow and obey Jesus Christ to say something like that!  I don't think Pastor O would have thought himself to be in such elite company.  But I would love to tell him – and I will when I see him in heaven someday! – "Pastor O, you set a wonderful example for me to follow in my ministry.  Thank you for being my pastor and my friend."