November 3, 2017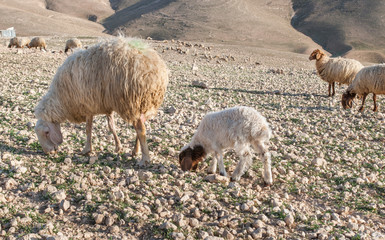 Psalm 23:1-3
(All Scripture is from the New King James Version unless otherwise indicated)
Last evening at our church Bible study, we viewed a DVD teaching by Ray Vander Laan, called "Ears To Hear."  It is part of a 17 DVD series, "That The World May Know," produced by Focus On The Family through Zondervan Publishing.  I heartily recommend viewing the whole series!  It will greatly expand your understanding of the Bible!
The Scripture upon which Ray Vander Laan's teaching was based – and for this blog also – is Psalm 23:1 through 3:
      The LORD is my shepherd; I shall not want. He makes me to lie down
      in green pastures; He leads me beside the still waters.  He restores my
      soul; He leads me in the paths of righteousness for His name's sake.
I especially want to concentrate on the first part of verse 2:  "He makes me to lie down in green pastures…."  But as it was said in "Ears To Hear", to Westerners "'The Lord leads me into green pastures…' has been pictured as belly-deep alfalfa!"  The reality is much different!  If you observe a flock grazing in southern Israel, the landscape is desert!  At first glance, you might ask as I did, "What can these sheep eat in such a place?"  But there is a green tint to the landscape, and that's because of the little tufts of grass that grow by the rocks that tend to collect the bit of moisture in the desert!
The title of this DVD teaching, "Ears To Hear", comes from the relationship of the sheep to the shepherd.  The shepherd does not drive the sheep from behind, but goes before the flock calling or singing to them.  As Jesus said in John 10:27, "My sheep hear My voice, and I know them, and they follow Me."  The sheep follow the familiar voice of the shepherd, because (again as the Lord tells us in John 10:5), "…they will by no means follow a stranger, but will flee from him, for they do not know the voice of strangers."  So the shepherd, calling to them, leads them at a leisurely pace along a hillside where the sheep graze on the tufts of grass.  The paths, worn by flocks over the many years, are referred to as "…paths of righteousness…."  As long as the sheep have Ears To Hear the shepherd's voice, they stay on the paths of righteousness, and have Just Enough to eat!
I think of several points concerning how all this comes together for us as Christians!
•      The first has to do with our blog title, Just Enough!  As the sheep are led, they find a tuft of grass and take a bite.  It is Just Enough to fill their mouth for the moment!  And they are satisfied!  Then they take another step of two, following the voice of the shepherd, and there is another tuft of grass – Just Enough for another mouthful!  And they are satisfied for that moment!  Can you see how as we follow "…the good shepherd…" Jesus Christ (John 10:11), He gives us Just Enough to be satisfied for that moment?  But as the sheep closely follow the voice of their shepherd, they have learned that there will be Just Enough for each moment of the future!  They don't worry about what is to come!
Are you listening to the voice of the Good Shepherd ?  You hear His voice in several ways:
      ✞      The Bible – that's why is it called "…the word of God…"! (See Luke 3:2 and many other Scriptures).  Paul also calls it "…the word of Christ…" in Colossians 3:16.
              ▸      Read it! (See Isaiah 34:16).
              ▸      Study it! (See II Timothy 2:15 – King James Version).
              ▸      Memorize it! (See Deuteronomy 11:18; Psalm 119:9-11).
              ▸      Meditate upon it! (See Joshua 1:8; Psalm 1:2; 119:15, 23, 48, 78, 148).
      ✞      The inner leading of the Holy Spirit! (See I Kings 19:12; Isaiah 30:21; I John 2:27).
      ✞      The counsel of other wise persons! (See Proverbs 11:14; 12:15; 15:22; 19:20; 20:18; 24:6; 27:9; Daniel 2:14; 4:27; Acts 5:34-38).
      ✞      Preaching and teaching in Church! (See Ephesians 4:14-16; I Thessalonians 5:11; Hebrews 10:24, 25).
•      Those trails the sheep follow on the grazing hillsides are called "…paths of righteousness…."  And they are narrow.  We read in Matthew 7:13 and 14 (Jubilee Bible):
      Enter ye in at the narrow gate, for the way that leads to destruction is
      wide and spacious, and those who follow it are many; because narrow
      is the gate, and confined is the way which leads unto life, and there are
      few that find it.
If a sheep wanders off the trail too far, and away from being able to hear the shepherd's voice, that sheep can get into big trouble!  If we stray from the confined way and away from our Shepherd, we are headed for trouble!  A good example of this is found in Luke 15:11 through 24 – the parable of the Prodigal Son.  To fulfill Jesus' command in Matthew 4:19, "Follow Me…," we must keep our Shepherd within sight and hearing – the closer the better!
•      Back to the idea of Just Enough!
      ✞      The Lord has promised to meet our needs in the…
              ▸      …Old Testament, Deuteronomy 33:25 – "…as your days, so shall your strength be."  In other words, whatever situation you face, God will give you the needed strength to deal with it!  The word for strength in the Hebrew encompasses physical, mental, emotional, spiritual strength – whatever is needed for that particular situation!
              ▸      …New Testament, Philippians 4:19 – "And my God shall supply all your needs according to His riches in glory by Christ Jesus."  Again, the Lord's supply will meet any and every situation that might confront us!
But this is for the need at hand – at the present (like the mouthful of food the sheep requires at that moment) not for the needs of tomorrow or next week – not even for the next moment!
      ✞      Jesus emphasized this concept in Matthew 6:31 through 34:
              Therefore do not worry, saying, "What shall we eat?" or "What shall
              we drink?" or "What shall we wear?"  For after all these things the
              [unbelievers]…seek.  For your Heavenly Father knows that you need
              all these things.  But seek first the kingdom of God and His righteous-
              ness, and all these things shall be added to you.  Therefore do not worry
              about tomorrow, for tomorrow will worry about its own things.  Suffi-
              cient for the day is its own trouble.
      ✞      When God gave the Israelites manna as they journeyed in the wilderness, it was just enough for that day's needs!  We are told in Exodus 16:16 and 21:
              This is the thing which the LORD has commanded:  'Let every man
              gather it according to each one's need'….So they gathered it every
              morning, every man according to his need.  And when the sun be-
              came hot, it melted.
Just Enough!  And if He gives you more than your needs require, it is because He wants you to bless others with your abundance!