November 29, 2017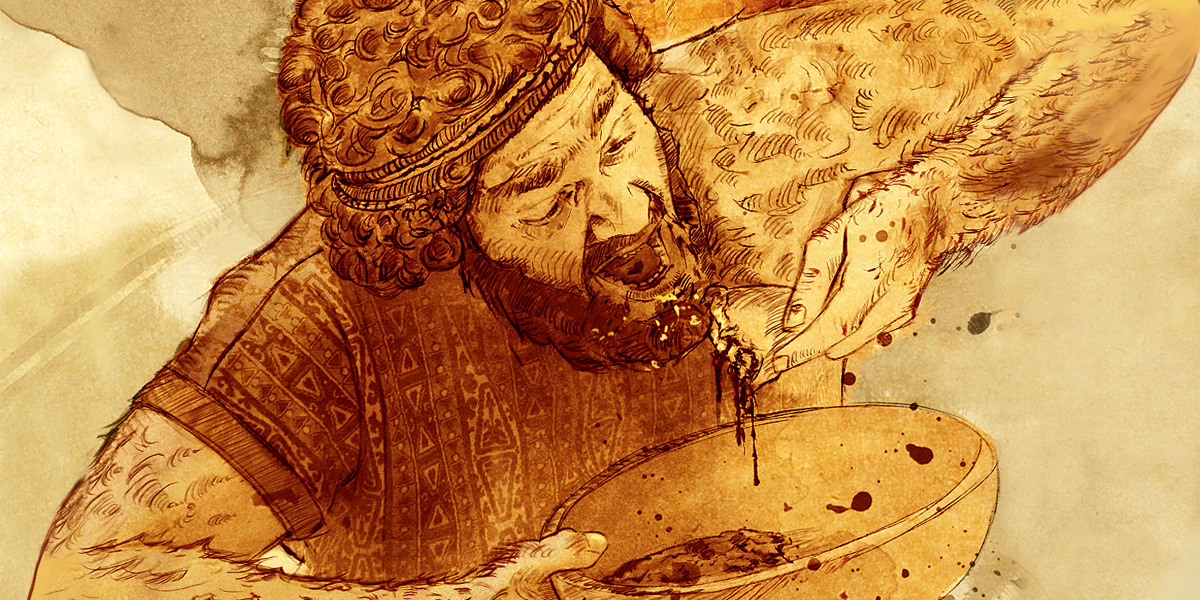 Genesis 25:21-23
(All Scripture is from the New King James Version unless otherwise indicated)
As we continue with the theme of Two…, let's look at Two brothers, twins, Esau and Jacob. The featured Scripture is Genesis 25:21 through 23:
      Now Isaac pleaded with the LORD for his wife, because she was barren;
      and the LORD granted his plea. And Rebekah his wife conceived. But
      the children struggled together within her; and she said, "If all is well,
      why am I this way?" So she went to inquire of the LORD. And the LORD
      said to her, "Two nations are in your womb, two peoples shall be separated
      from your body; one people shall be stronger than the other, and the older
      shall serve the younger."
These Two are good examples of what the lives of a Godly person and an ungodly person look like. Esau, the firstborn, showed forth his ungodliness in several ways:
•      He despised his birthright ! (See Genesis 25:29-33).
✡      The birthright was very important in that ancient culture! The firstborn of the father inherited twice as much as other sons upon his father's death (see Deuteronomy 21:17), and it was his responsibility to see the family name remain in good standing, help his siblings and families in their struggles, and be the priest of the family. In the lineage of Abraham, the right of the firstborn included God's covenant of prosperity, seed, land, and Savior!
       ✡      It is written in Genesis 25:33 with Hebrews 12:16, "…for one morsel of bread…and stew of lentils…Esau despised…and…sold his birthright." His was the mind of one set on earthly things only! For he said, ""Look, I am about to die; so what profit shall this birthright be to me?" He thought only of satisfying his physical hunger, not of the spiritual consequences! His theme would probably have been "…let us eat and drink, for tomorrow we die…"! (Isaiah 22:13; I Corinthians 15:32).
But God tells us through the Apostle Paul in Colossians 3:1 through 3:
      If you were raised with Christ, seek those things which are above, where
      Christ is sitting on the right hand of God. Set your mind on things above,
      not on things on the earth. For you died, and your life is hidden with
      Christ in God.
•      Esau's choice of wives further conveys his ungodly worldview! We are told in Genesis 26:34 and 35: "…he took as wives Judith the daughter of Beri the Hittite, and Basemath the daughter of Elon the Hittite. And they were a grief of mind to Isaac and Rebekah." These were women from a pagan tribe that God had said in Deuteronomy 20:17, and 7:3 and 4: "…you shall utterly destroy the Hittite[s]….Nor shall you make marriages with them….For they will turn away your sons from following Me, to serve other gods…." His third wife was "…Mahalath the daughter of Ishmael…" (Genesis 28:9). He married her when, according to the preceding verse, "…Esau saw that the daughters of Canaan did not please his father Isaac." The problem was not their tribe of origin, but that both the women of Canaan and the women descended from Ishmael were not of spiritual lineage! This concept was totally lost to the mind of elder twin!
•      Esau represents worldly unspiritual people who only "…mind the things of the flesh…" (Romans 8:5 – King James Version – see also Romans 8:6-8; Ephesians 2:1-3). It is only by God's grace that we are given the opportunity through faith in Jesus Christ to become His spiritual children! (See John 1:12; Ephesians 2:8, 9).
•      The descendants of Esau were trouble for Israel through the ages! Esau was also known as Edom (see Genesis 25:30; 36:8), and the Edomites were often Israel's enemies! (See I Kings 11:14-16; Psalm 137:7; Ezekiel 25:12-14; Joel 3:19; Amos 1:11). But the most dangerous enemies of Israel were the Amalekites! So dangerous were they that the LORD ordered their complete extinction! (See Exodus 17:14; Deuteronomy 25:19; I Samuel 15:2, 3). And Amalek was the grandson of Esau! (See Genesis 37:12). Amalek inherited the Godless nature of his grandfather – and greatly increased it!
•      So set was Esau in his ungodly ways – so unresponsive to God, the LORD stated in Malachi 1:3, "…Esau I have hated…" (see also Romans 9:13).
Jacob was the younger twin brother of Esau. He was far from being Godly through much of his adult life. But, when God reached out to him, he was responsive to that call! We will save this study for our next blog.