January 5, 2018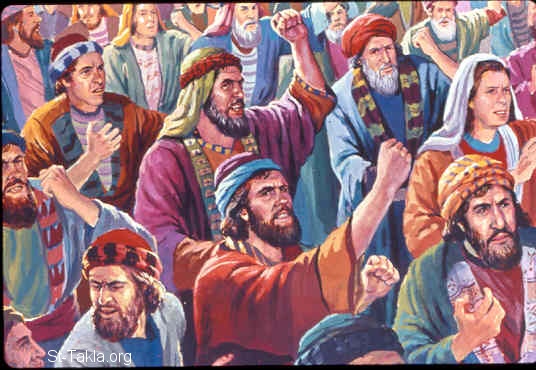 Numbers 13:30-33
(All Scripture is from the New King James Version unless otherwise indicated)
Today we will look more extensively at the consequences of the Whiners' whining!  Here is the Scripture from Numbers 13:30 through 33:
      …Caleb quieted the people…and said, "Let us go up at once and take pos-
      session, [of Canaan] for we are well able to overcome it."  But the men who
      had gone up with him said, "We are not able to go up against the people,
      for they are stronger than we….The land through which we have gone as
      spies is a land that devours its inhabitants, and all the people whom we saw
      in it are men of great stature.  There we saw the giants (the descendants of
      Anak…); and we were like grasshoppers in our own sight, and so we were
      in their sight."
Joshua and Caleb were two of twelve spies sent out to reconnoiter the Promised Land of Canaan.  Only these two came back as Winners with a consistent positive report:  "Let us go up at once and take possession, for we are well able to overcome it."  All twelve started out with an upbeat description of the land – Numbers 13:27:  "We went to the land where you sent us.  It truly flows with milk and honey, and this is the fruit of it…," as they showed the people "…one cluster of grapes, carried…between two of them on a pole." (Numbers 13:23).  But the report of the majority soon turned negative – very negative! (See Numbers 12:28, 29, 31-33).  And that negativity infected all the Israelites, except four people – Moses, Aaron, Joshua, and Caleb!
What were the results of the ten Whiners' negativity?
•      Numbers 14:1 – "Then all the congregation lifted up their voices and cried, and the people wept that night."  In Numbers 1:2 and 3, Moses was commanded to "Take a census…of Israel…every male…from twenty years old and above — all who are able to go to war…."  Numbers 1:46 tells us, "…all who were numbered were six hundred and three thousand five hundred and fifty."  Not included in the census were the priestly tribe of Levites (see Numbers 1:47), and the women and children.  It is estimated that there were between two and three million Israelites at that time!  And all of them were frightened, discouraged, depressed, and scared because of the ten Whiners' report – so much so that they cried all that night!
Yes, there are tears in a believer's life.  But tears are not supposed to dominate such a life!
       ✡      Psalm 30:5 – "Weeping may endure for a night, but joy comes in the morning."
       ✡      Isaiah 61:1 and 3 – "The Spirit of the LORD is upon Me…to console those who mourn…, to give them beauty for ashes, the oil of joy for mourning, the garment of praise for the spirit of heaviness…."
       ✡      Galatians 5:22, 23 (English Standard Version) – "…the fruit of the Spirit is love, joy, peace, patience, kindness, goodness, faithfulness, gentleness, self-control…."
       ✡      Philippians 4:4 – "Rejoice in the Lord always. Again I will say, rejoice! "
•      Numbers 14:2 – "…all the children of Israel murmured against Moses and Aaron…, "If only we had died in…Egypt!  Or if only we had died in this wilderness! "
       ✡      Elijah was so down over his self-perceived failed ministry, we are told in I Kings 19:4: "…he…went a day's journey into the wilderness, and…sat down under a broom tree.  And he prayed that he might die,…  'It is enough!  Now, LORD, take my life, for I am no better than my fathers!' "
       ✡      Job, in pain and despair, cried out, "I'd rather choke to death than live in this body.  Leave me alone and let me die; my life has no meaning." (Job 7:15 and 16).
       ✡      Jonah, in a fit of anger, pleaded with God, "…please take my life from me, for it is better for me to die than to live!" (Jonah 4:3 – see also verse 8).
It has to be very negatively perceived circumstances to wish death over life!  But death is ultmately not God's plans for His children!  Jesus said in John 10:10, "I have come that they may have life, and that they may have it more abundantly." (See also I Corinthians 15:25, 26, 54, 55, 57).
•      Numbers 14:3 – "Why has the LORD brought us to this land to fall by the sword, that our wives and children should become victims?  Would it not be better for us to return to Egypt? "
       ✡      This is total unbelief of what God had specifically told Moses in Exodus 3:17:  "…I have said I will bring you up out of the affliction of Egypt to the land of the Canaanites…the Perizzites…the Hivites and the Jebusites, to a land flowing with milk and honey." (See also Exodus 3:8; 6:6-8).
       ✡      Numbers 14:3 reflects the people's reaction from what the ten spies had reported in Exodus 13:28 and 31:  "…the people who dwell in land are strong…they are stronger than we."  But nothing or no one is stronger than God in and through us! (See Philippians 4:13; I John 4:4).
       ✡      The Israelites thought it better for them to return to Egypt – to idolatry, slavery, prejudice, beatings, and infanticide!  It seems like the human mind too easily forgets the bad stuff of life, and remembers only the good!  But the bad has still happened whether we remember it or not!  For instance, in Exodus 16:3, this is what the Israelites said shortly after God delivered them from bondage, and as they complained against Moses and Aaron:  "Oh, that we had died by the hand of the LORD in the land of Egypt, when we sat by the pots of meat and…ate bread to the full!"
•      Numbers 14:4 – "So they said to one another, 'Let us select a leader and return to Egypt.' "  That's quite a difference from what is said about the Israelites in Exodus 14:31, after they witnessed the ten plagues against the Egyptians, and their trek through the Red Sea:  "Thus Israel saw the great work which the LORD had done in Egypt; so the people feared the LORD, and believed the LORD and His servant Moses."  Recalling the past blessings, provisions, and miracles of the LORD will help us trust Him in the present – and the future! (See Psalm 63:6, 7; 77:10-14; 105:1-5).
•      But the most disastrous result of the Whiners' report was that, because the people generally received and believed their negativity, God told them in Exodus 14:34 and 35:
      According to the number of the days in which you spied out the land, forty
      days, for each day you shall bear your guilt one year…forty years, and you
      shall know My rejection.  I the LORD have spoken this; I will surely do so
      to all this evil congregation who are gathered together against Me.  In the
      wilderness they shall be consumed, and there they shall die.
Only Joshua and Caleb lived beyond that wilderness wandering!  All the rest died before Israel entered the Promised Land!  Whining – and all sin – can bring grievous consequences!