January 26, 2018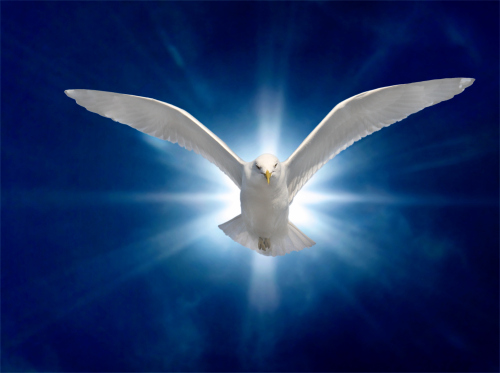 Ephesians 4:22 – 24
(All Scripture is from the New King James Version unless otherwise indicated)
Paul wrote Ephesians 4:22 through 24 admonishing the Ephesian Christians to put off the old nature with its sinful outworking, and put on the new nature that was birthed by the Holy Spirit and manifests itself in Godly thought, word, and deed!  Here are the three verses of our featured Scripture:
      …put off concerning your former conduct, the old man which grows cor-
      rupt according to the deceitful lusts, and be renewed in the spirit of your
      mind, and…put on the new man which was created according to God, in
      righteousness and true holiness.
Then Paul gets into specifics – which is the main topic of this series.  We have examined verses 25 through 29. Let's go on to…
•      Ephesians 4:30 – "And do not grieve the Holy Spirit of God…."  This is more of a general instruction for believers, in the midst of specifics.
       ✞      How do we grieve the Holy Spirit of God ?  By disobedience!  We grieve Him when we…
               ▸      …do things we should not do!  A good example of this is what we studied in Wednesday's blog – "Let no corrupt communication proceed out of your mouth…" (Ephesians 4:29).  It happens far too often that we let corrupt communication come out of our mouths – corruption such as "…dirty or foolish or filthy words." (Ephesians 5:4 – Contemporary English Version).
               ▸      …don't do things we should do!  The last part of Ephesians 4:29 covers this idea – "…but what is good for necessary edification, that it may impart grace to the hearers."  How often it has been that the Spirit has led me to say an edifying word to someone, but I haven't.  That, too, is sin!
       ✞      How do we not grieve the Holy Spirit of God ?  By obedience!  But, the problem is, it is so easy to disobey!
               ▸      Often we do it consciously.  Other times we are not aware of our disobedience.  But even sinning in ignorance (see Leviticus 4:27-31), it is still in opposition to what God wants our Christian lives to manifest!
               ▸      I believe that to be more consistent as God's obedient children, we need to sincerely and often pray what David prayed in Psalm 139:23 and 24 (King James Version):  "Search me, O God, and know my heart; try me, and know my thoughts:  and see if there be any wicked way in me, and lead me in the way everlasting."
•      Ephesians 4:30 – "…by whom you were sealed for the day of redemption."
       ✞      This Holy Spirit act of being sealed is one of the main functions of Him residing within us! (See II Corinthians 1:22; 5:5; Ephesians 1:13, 14).  This is also the main reason I believe in eternal security!  But that's a discussion for another day.
       ✞      But being sealed for the day of redemption is not the only function of the Holy Spirit within us!
               ▸      He leads us, as He did Paul and Silas in Acts 16:6 and 7 – "Now when they had gone through Phrygia and the region of Galatia, they were forbidden by the Holy Spirit to preach the word in Asia.  After they had come to Mysia, they tried to go into Bithynia, but the Spirit did not permit them."
               ▸      He empowers us!
                        ➨       As Jesus told the disciples in Luke 24:49, "Behold, I send the Promise of My Father upon you; but tarry in the city of Jerusalem until you are endued with power from on high."
                        ➨       Paul wrote in Romans 15:19, "…by the power of the Spirit…from Jerusalem…to Illyricum, I have fully preached the gospel of Christ."
                        ➨       Philippians 2:13 – "…it is God who works in you [by the Holy Spirit] both to will and to do for His good pleasure."
               ▸      He gifts us!  In I Corinthians 14:1 (Contemporary English Version), Paul encourages us to "Be eager to have the gifts that come from the Holy Spirit…"  The nine gifts of the Spirit are listed in I Corinthians 12:8-10.
               ▸      He produces spiritual fruit in our lives!  "…love, joy, peace, patience, kindness, goodness, faithfulness, gentleness, self-control…" (Galatians 5:22 and 23 – English Standard Version).
               ▸      He teaches us!  "…the anointing which you have received from Him [the Holy Spirit sent from God] abides in you, and…teaches you concerning all things…." (I John 2:27).
               ▸      He sanctifies us!  In II Thessalonians 2:13 we are told, "…God…chose you for salvation through sanctification by the Spirit and belief in the truth." (see also I Peter 1:2).
       ✞      We are sealed for the day of redemption!  But were not we redeemed when we put our faith in Jesus Christ?  Yes!  But that is only the beginning of the process.  The completion of redemption will occur at our resurrection, when we are totally conformed to the image of Jesus Christ! (See Romans 8:29; I Corinthians 15:49; I John 3:2).  As Paul wrote in Philippians 1:6:  "…being confident of this very thing, that He who has begun a good work in you will complete it until the day of Jesus Christ [when He returns]."
We only covered one more verse – Ephesians 4:30 – but there is so much here to learn!  And we will learn more on Monday.