February 21, 2018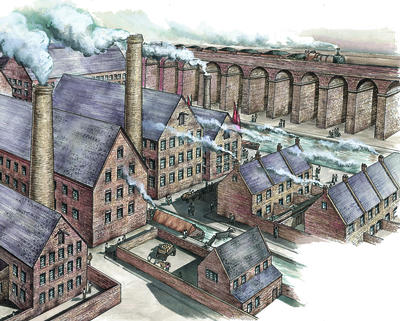 Ephesians 4:22 – 24
(All Scripture is from the New King James Version unless otherwise indicated)
There are too many Little Acceptable Sins in the lives of Christian that go unchallenged – be they in our own lives or in the lives of believers around us.  Paul writes in Ephesians 4:22 through 24 (our featured Scripture for this series) that a change should and must take place if we are seriously going to follow Jesus Christ!
      …put off concerning your former conduct, the old man which grows cor-
      rupt according to the deceitful lusts, and be renewed in the spirit of your
      mind, and…put on the new man which was created according to God, in
      righteousness and true holiness.
We are into Ephesians chapter 6, where in verses 5 through 9 the apostle addresses the subject of servants (slaves in some translations) and masters.  We can apply what is written here to employees and employers!  It is in the workplace where many Little Acceptable Sins occur!
Ephesians 6:5 through 8 – "Servants, be obedient to those who are your masters according to the flesh, with fear and trembling, in sincerity of heart, as to Christ; not with eyeservice as men-pleasers, but as servants of Christ, doing the will of God from the heart, with good will doing service, as to the Lord, and not to men."
•      In modern western culture, verse 5 could be translated, "Employees, do what your employers tell you to do…"  After all, what the boss says goes!
       ✞      But let's qualify that statement, what the boss says goes, with some Scriptural directives…
               ▸      …from the Ten Commandments:
                         ➨      "You shall not steal." (Exodus 20:15).
                         ➨      "[Tell] No lies about your neighbor [or coworker, supervisor, etc]."                                    (Exodus 20:17 – The Message Bible).
                         ➨      "You shall not covet…anything that is your neighbor's [any                                    position or advancement of another worker]."
               ▸      Perhaps the overriding directive is what Peter and John told the Jewish rulers in Acts 4:19:  "Whether it is right in the sight of God to listen to you more than to God, you judge."
I remember a situation in the Christian movie, 'Courageous'.  Javier Martinez, a Mexican immigrant (played by Robert Amaya), has a job in a cloth factory.  He is called to a conference with his two bosses and given the opportunity to be promoted to a supervisory position – if he will falsify inventory documents!  After a day praying with his wife about the situation, he refuses the promotion because of his Christian standards.  But it was a test!  His bosses wanted to see if his integrity was real!  And he receives the promotion!  Not always does it work out positively when our Christian standards are tested in the workplace.  But do I want the approval of God or of man?
•      Do your job "…not with eyeservice…but as servants of Christ, doing the will of God from the heart…" (Ephesians 6:6).  We are to labor as if we are working for Jesus Christ Himself – which, in reality, we are!  Eyeservice means that when someone is watching, that's when we appear to be working diligently at our jobs!  If no one is watching, then we slack off!
Bobby, a childhood friend, had a job in a factory making metal parts.  He sometimes had to spend long hours at a grinding wheel, taking the rough edges off the metal pieces to make them acceptable to ship out to customers.  He was slow and inefficient at his position – unless someone in authority was watching him!  And as he often did, Bobby complained aloud to himself as he worked!  As he worked at the grinding wheel, he was grumbling, "This job stinks!  They ought to pay me what I am worth!"  But Bobby was unaware the company owner was standing behind him listening!  Finally, having heard enough, he said, "Bob, we would pay you what you are worth, but there are laws against paying below minimum wage!"
Solomon wrote in Ecclesiastes 9:10, "Whatever your hand finds to do, do it with all your might…. "  And Paul tells us in Colossians 3:17, "…whatever you do in word or deed, do all in the name of the Lord Jesus, giving thanks to God the Father through Him."  So whether you are working around the home, in kitchen or shop, whether working in a factory or executive suite, whether flipping hamburgers or studying in school preparing for the future, work to please the Lord Jesus Christ!
Ephesians 6:9 – "And you masters, do the same things to them [the slaves], giving up threatening, knowing that your own Master also is in heaven, and there is no partiality with Him."
•      You might interpret this to say, "Bosses [owners, supervisors, etc.] treat your employees with the Golden Rule in mind! "  What is the Golden Rule?  "Do to others what you want them to do to you."  It comes from Matthew 7:12:  "Therefore, whatever you want men to do to you, do also for them, for this is the law and the prophets." (See also Luke 6:31).
•      Paul wrote to Philemon (a one-chapter letter just before the book of Hebrews).  In this short epistle he tells his wealthy friend about Philemon's run-away slave, Onesimus, whom Paul had influenced to become a Christian while the apostle was a prisoner in Rome.  Onesimus had apparently stolen some valuables from his master, but he was now coming back in repentance.  Here, in verses 15 and 16, is the apostles plea to the slave's master:  "…receive him…no longer as a slave but more than a slave, as a beloved brother, especially to me but how much more to you, both in the flesh and in the Lord."  Treat those in your employ as the Lord would have you!
Applying this to employers and employees – seek the best for them!  Treat them as you would like to be treated!  This means giving them a fair wage and good and safe working conditions.
We might sum it up with this:  Apply God's Word and will to all you think, say, and do – and apply this in the workplace whether you are an employer or an employee!  God will be honored and bless you!