May 6, 2016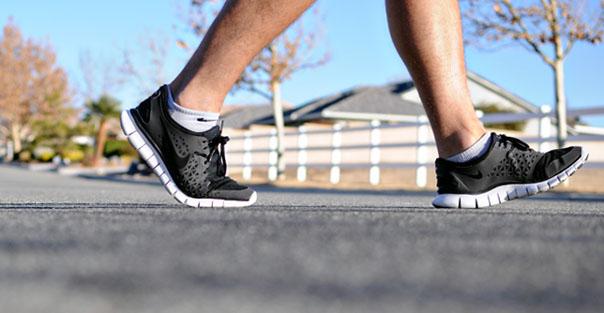 Colossians 1:9-12 (English Standard Version)
(All scripture is from the New King James Version unless otherwise indicated.)
Three Hundred Million is a BIG number!  It is especially big when you are applying that number to the steps you take – actually putting one foot in front of the other!  But I have always been a walker and/or a runner.  Actually I jogged at a leisurely pace when I was physically able.  But I have had two knee replacements, both on the right knee (the first didn't work out), so my jogging days are over.  Now I walk.  And I try to walk at least 40 miles a week!  You see, I have arthritis generally throughout my body.  To keep myself limber and moving, I walk – a lot!  Thank God we have a wonderful hiking/biking trail just a hundred feet from our front door.
I was lately thinking of how many steps I might take in my lifetime.  So I figured six miles a day, seven days a week equals 42 miles a week, or 2,184 miles a year!  And if I lived to be 85 and kept up that pace, I would have walked that distance each year for 65 years!  That equals 141,960 miles!  Since there are 5,280 feet in a mile, that comes out to 749,548,800 feet!  And if I divide my stride of 2 feet, six inches into that number, it equals 299,819,520 steps – almost 300 Million Steps!
Now how am I going to turn this into a Gems For Living from the Bible?  Consider Colossians 1:9 through 12 (English Standard Version):
      …from the day we heard, we have not ceased to pray for you, asking
      that you may be filled with the knowledge of His will in all spiritual
      wisdom and understanding, so as to walk in a manner worthy of the
      Lord, fully pleasing to Him, bearing fruit in every good work and in-
      creasing in the knowledge of God.  May you be strengthened with all
      power, according to His glorious might, for all endurance and patience
      with joy, giving thanks to the Father….
Paul had not been to the city of Colosse in Asia Minor, but he had heard of the vibrant faith of the believers there, and was writing to teach and encourage them.  Our featured Scripture breaks into Paul's telling them of his prayer on their behalf.  Because the theme of this blog is walking, I emphasize verse 10:  "…walk in a manner worthy of the Lord…."  It means, live in such a manner that your life will please the Lord Jesus Christ!  There are eleven things that surround that statement:
•      Colossians 1:9 – "…we have not ceased to pray for you…."  The prayers of other believers are of great benefit to our Christian walk!  I have no idea of how many people are praying for me, but I know there are many, and I thank God for them.  I also wonder how many prayed for me to come to faith in Christ before I was saved.  I know I pray daily for relatives and friends to become Christians.  I do not want anyone to be lost and going to hell!  I also know when I pray for their salvation, I am praying according to the will of God and, according to the Bible, my prayers will be answered! (See I Timothy 2:1-4; II Peter 3:9; I John 5:14, 15).
•      Colossians 1:9 – "…asking that you may be filled with the knowledge of His will…."  We can only please God when we are living according to His will – when we are obeying Him as our Lord!  How do we get to know His will?  By reading, studying, meditating upon His Word, the Bible!  This is why Paul tells his Colossian readers two chapters later in Colossians 3:16, "Let the word of Christ dwell in you richly…."  You cannot successfully live out the Christian life without being richly in His Word!
•      Colossians 1:9 – "…in all spiritual wisdom and understanding…."  Understanding refers to the intellect, to knowledge.  Wisdom is how to properly apply understanding to life – what you know to what you do!  We need both!  And it has to be spiritual wisdom, that which God gives us by His Holy Spirit applying the understanding of His Word to our daily lives! (See John 14:26; I John 2:27).
•      Colossians 1:10 – "…fully pleasing to Him…."  When we "Let the word of Christ dwell in…[us] richly…," when we obey what we know His will and Word to be, then we are fully pleasing to Him!  As Jesus told His followers in John 15:14, "You are My friends if you do whatever I command you."  Oh, to be called the friends of the Lord Himself! What a privilege!
We will continue on our 300 Million Steps walk in our next blog.