May 19, 2017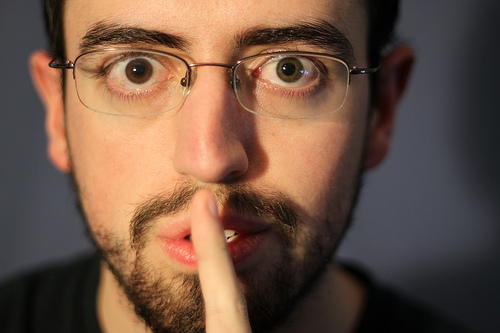 Ezekiel 8:7-10, 12
(All scripture is from the New King James Version unless otherwise indicated.)
The second part of Ezekiel's first Jerusalem vision we will examine by looking at Ezekiel 8:7 through 10, and 12:
      …He brought me to the door of the court; and when I looked, there was
      a hole in the wall.  Then He said to me, "Son of man, dig into the wall";
      and when I dug into the wall, there was a door.  And He said to me, "Go
      in, and see the wicked abominations which they are doing there."  So I
      went in and saw, and there — every sort of creeping thing, abominable
      beasts, and all the idols of the house of Israel, portrayed all around on
      the walls….Then He said to me, "Son of man, have you seen what the
      elders of the house of Israel do in the dark, every man in the room of
      his idols?  For they say, 'The LORD does not see us, the LORD has for-
      saken the land.'"
The majority of the commentaries that I consulted say that this describes an actual secret cult practiced away from the eyes of others, and even in the priests' temple rooms.  But I have always read this as a description of what secretly went on in the imagination of these Jewish elders' minds!  Here, in the New King James Version, the translation reads, "…every man in the room of his idols…" (verse 12).  But in the King James Version, this phrase is translated, "…every man in the chambers of his imagery…." "…of his imagery…" is from the Hebrew word מַשְׂכִּית (pronounced mas-keeth'); and, according to Strong's Hebrew Dictionary, it can figuratively mean imagination.  I go by this interpretation, and that is why I call this blog Secret Idolatry.
In verse 11 of Ezekiel 8 (the verse I left out to save space), we read that "…seventy men of the elders of the house of Israel…" were involved in this Secret Idolatry.  I think this is symbolic of the whole nation since God told Moses in Numbers 11:16 and 17 to "Gather to Me seventy men of the elders of Israel…[who] shall bear the burden of the people with you…."  Moses needed help in governing the new nation of two to three million people!  The Jews of Jesus' day used this Scripture from Numbers to establish the number of leaders who made up the ruling Jewish body of Israel called the Sanhedrin – seventy one (seventy elders plus Moses).  If this is the correct interpretation of "…seventy men of the elders of the house of Israel…" (Ezekiel 8:11), most of Israel – especially the Jewish leaders – were involved in Secret Idolatry!
But was it Secret?  These practitioners thought so, saying, "The LORD does not see us, the LORD has forsaken the land."  But here are several Scriptures from both testaments that prove otherwise:
•      Psalm 139:1 through 4 – "O LORD, You have searched me and known me.  You know my sitting down and my rising up; You understand my thought afar off.  You comprehend my path and my lying down, and are acquainted with all my ways.  For there is not a word on my tongue, but behold, O LORD, You know it altogether."
•      Proverbes 15:9 (Easy-to-Read Version) – "The LORD knows everything, even what happens in the place of death.  So surely He knows what people are thinking."
•      Ecclesiastes 12:13 and 14 – "Let us hear the conclusion of the whole matter:  Fear God, and keep His commandments, for this is the whole duty of man.  For God will bring every work into judgment, including every secret thing, whether it is good, or whether it is evil."
•      Matthew 9:4 – "…Jesus, knowing their thoughts…."
•      John 2:24 and 25 – "…Jesus…knew all men, and had no need that anyone should testify of man, for He knew what was in man."
•      Hebrews 4:13 – "…there is no creature hidden from His sight, but all things are naked and opened to the eyes of Him to whom we must give account."
I think you can see that we can't hide anything from God – what we do, what we say, or even what we think!
So what Secret Idolatry are you allowing your mind to dwell on?  Because before God, the thoughts of your mind – even if they do not become outward acts – are just as if you had acted upon those thoughts!  For instance…
•      Matthew 5:28 – "…I say to you that whoever looks at a woman to lust for her has already committed adultery with her in his heart."
•      I John 3:14, 15 – "He who does not love his brother abides in death.  Whoever hates his brother is a murderer…."
•      In like manner, covetousness and envy are thievery!
We could continue, but the point is, what we allow to go on in our minds matters!  And though we might not be outward idolaters, if we allow anything to come before God – even if only in our imaginations – we are descending into idolatry!  And, as Ezekiel dug through the wall and opened to door to witness what was happening in the secret imaginations of the Jewish leaders, so God will expose unrepented secret sins for all to see! (See Luke 8:17; I Corinthians 3:13).  But, as it says in I John 1:9, "If we confess our sins, He is faithful and just to forgive us our sins and to cleanse us from all unrighteousness."  And when God forgives us because we have trusted in Christ for our salvation, He tell us in Hebrews 8:12 and 10:17, "Their sins and lawless deeds I will remember no more."  Sins covered by the blood of the Lord will never be brought into the light for others to see!  Praise God!
Do not allow Secret Idolatry to take hold in your mind!