June 12, 2017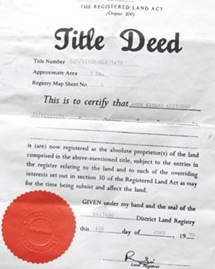 Mark 8:34-37
(All Scripture is from the New King James Version unless otherwise indicated)
I own my own home – or do I?  Ok, we re-mortgaged it a few years ago to use the equity we had build up on our first mortgage.  I received a notice from our insurance company recently telling me that according to their records the wrong bank is listed as holding the mortgage.  You see, the bank was bought out last fall by a big banking concern, and the name changed.  The insurance company wanted the correct name on their records because, if there was a major loss and they had to pay, they had claim up to the mortgage value of our house!  So who really owns the house?  It is worth more than what we owe on our mortgage, so I own part of my home!  But the bank owns the rest!  And the insurance company has a valid claim also!
Who owns your soul?  In Jesus' day, the Jewish idea of 'soul' involved more than what we think today.  It was akin to the life of the whole person!  We might then ask, "Who owns you?"  Who has Title to your life?  Jesus dealt with this question in Mark 8:34 through 37:
      Whoever desires to come after Me, let him deny himself, and take up
      his cross, and follow Me.  For whoever desires to save his life will lose
      it, but whoever loses his life for My sake and the gospel's will save it. 
      For what will it profit a man if he gains the whole world, and loses his
      own soul?  Or what will a man give in exchange for his soul?
God desires to have Title to your life!  But does He have it?  If He does not, who does?  Jesus answered that question in John 8:44 when He told the Pharisees, "You are of your father the devil, and the desires of your father you will do."  Was it just the self-righteous Pharisees to whom the Lord was directing this statement?  No!  We are all naturally in this dilemma!  We are all naturally under the fatherhood – the dominion of Satan, "…and the desires of your father you will do…"!  Saint Paul, writing to believers, put it this way in Ephesians 2:2 and 3 (English Standard Version):
      …you once walked, following the course of this world, following the
      prince of the power of the air, the spirit that is now at work in the sons
      of disobedience — among whom we all once lived in the passions of
      our flesh, carrying out the desires of the body and the mind, and were
      by nature children of wrath, like the rest of mankind.
One of the descriptions of the devil's personality and purpose is found in II Thessalonians 2:4:  "…who opposes and exalts himself above all that is called God…showing himself that he is God."  Satan is the opposite of the good and righteous God, and his Title to a soul results in a wasted life now and being forever condemned to hell in eternity! (See John 10:10; Revelation 21:8).  No wonder Paul tells us in Romans 3:10 and 23:  "There is none righteous, no not one…for all have sinned and fall short of the glory of God."
So how do we change who has the Title to our soul – our life?  Let's examine Mark 8:34 through 37:
•      Mark 8:34 – "…come after Me…."  Jesus simply told Peter and his brother Andrew in Matthew 4:19, "Follow Me…"  Jeremiah expanded on that idea in Jeremiah 29:13 and 14:  "'…you will seek Me and find Me, when you search for Me with all your heart.  I will be found by you,' says the LORD…."  We must come to Jesus with some things in mind:
      ✞      We are sinners who can do nothing to deserve God's favor! (See Isaiah 64:6; Titus 3:5).
      ✞      We must seek some way (someOne) who has already paid the price for our sins! (See Romans 5:6; II Corinthians 5:21; I Peter 1:18, 19).
      ✞      We must receive that One – Jesus Christ – as our own personal Savior! (See John 1:12; Romans 10:9-13).
•      Mark 8:34 – "…let him deny himself…."  What does it mean to deny yourself? While God wants us to accept Jesus as our Savior, the Son of God must also be our Lord! (See Luke 2:11; 6:46; John 13:13, 14; I Corinthians 8:6; II Corinthians 4:5; Philippians 2:11; Revelation 19:16).  A lord is one whom you obey.  And the obedience necessary is plainly shown by what Jesus prayed in the Garden of Gethsemane:  "…nevertheless not my will, but Yours be done." (Luke 22:42).
•      Mark 8:34 – "…and take up his cross, and follow Me."  I discussed this at length in an early blog on April 26, 2013, Gladly, The Cross-Eyed Bear!  While the title is humorous, the content of the blog is very serious!  It involves realizing that the cross we are called to carry is an instrument of death!  Jesus carried His cross as He went out to die.  We are called to do the same – dying to ourselves (our old sinful nature) so we can live for the Lord!  Again, the way to accomplish this is by heeding Luke 22:24:  "…nevertheless not my will, but Yours be done." (See also Romans 6:2-14; Colossians 3:1-3).
When you accept Jesus Christ as your Savior, and give God control of your life through owning His Son as your Lord, you are handing over Title to your soul – your life – to Him!  Satan no longer has claim to you!  You have transferred ownership to someOne else!
More on this in Wednesday's blog.