February 2, 2018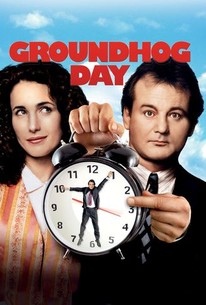 Romans 7:18-21
(All Scripture is from the New King James Version unless otherwise indicated)
The movie, Groundhog Day premiered in 1993.  It involves a Pittsburgh weatherman, Phil Connors, played by Bill Murray, who is assigned to cover the February 2nd Groundhog Day celebrations held every year in Punxsutawney, Pennsylvania, 80 miles northeast of Pittsburgh.  But Phil finds himself caught in a time loop experiencing the same Groundhog Day again and again!  Various estimates of how long the time loop lasted run from two weeks to 10,000 years!  One website gave a more realistic estimate of 12, 395 days – just under 34 years!
Does Groundhog Day have anything to teach us about spiritual truth?  I believe it does, from Romans 7:18 through 21.  The Apostle Paul writes:
      For I know that in me (that is, in my flesh) nothing good dwells; for to
      will is present with me, but how to perform what is good I do not find.
      For the good that I will to do, I do not do; but the evil that I will not to
      do, that I practice.  Now if I do what I will not to do, it is no longer I
      who do it, but sin that dwells in me.  I find then a law, that evil is pre-
      sent with me, the one who wills to do good.
What Paul is talking about is repeating the same sins again and again – kind of like Phil Connors stuck in the Groundhog Day time loop!  I don't know about you, but with my addictive nature, I often find myself 'stuck' committing the same sins over and over!  I want to do things differently, but I fall back again and again into the same actions – sinning against God – what I don't want to do!  I often cry out as Paul did in Romans 7:24:  "O wretched man that I am!  Who will deliver me from this body of death?"
Why does this 'time loop' happen to so many Christians?
•      As children of our Heavenly Father, we have two natures!
       ✞      The old sinful nature has been plaguing mankind ever since Adam disobeyed God in the Garden of Eden.  This nature has been passed down from father to child ever since! (See Romans 5:12 – also read the explanation in the blog for January 10th, 2018, In The Image Of… – II).
               ▸      This nature reflects our spiritual heritage with which we are born into this world – under the dominion of Satan and reflecting his person! (See Luke 4:5, 6; John 8:44).
               ▸      This old nature can do nothing but sin!
       ✞      We are given a new Godly nature when we are born again! (See John 3:3-7; II Corinthians 5:17).
               ▸      It is given by God, having been purchased by Jesus Christ on the cross!
                        ➨      Isaiah 53:5 and 6 – "…He was wounded for our transgressions, He was bruised for our iniquities; the chastisement of our peace was upon Him, and by His stripes we are healed.  All we like sheep have gone astray; we have turned every one to his own way; and the LORD has laid upon Him, the iniquity of us all."
                        ➨      II Corinthians 5:21 – God "…made Him who knew no sin to be sin for us, that we might become the righteousness of God in Him."
                        ➨      I Peter 2:24 – "…who Himself bore our sins in His own body on the tree….He became sin for us…."
               ▸      This nature does not, and can not sin!
                         ➨      I John 3:9 – "Whoever has been born of God does not sin, for His seed remains in him; and he cannot sin, because he has been born of God."
                         ➨      I John 5:18 – "We know that whoever is born of God does not sin…."
•      As long as we are mortal beings in this old world, we still possess the old sinful nature – as well as the new Godly nature!
       ✞      Romans 8:6 through 8 (where Paul calls the old nature "the flesh" and "the carnal mind ") tells us:
       For to be carnally minded is death, but to be spiritually minded is life and
      peace.  Because the carnal mind is enmity against God; for it is not subject
      to the law of God, nor indeed can be.  So then, those who are in the flesh
      cannot please God.
       ✞      And in Galatians 5:17 and 17:
      Walk in the Spirit, and you will not fulfill the lusts of the flesh.  For the flesh
      lusts against the Spirit, and the Spirit against the flesh, and these are contrary
      to one another, so that you do not do the things that you wish.
So how do we get out of this spiritual 'Groundhog Day' loop of sinning over and over again?
•      Realize the truth of II Peter 1:2 and 3:
      …His divine power has given to us all things that pertain to life and godli-
      ness….[God has] given to us exceedingly great and precious promises, that
      through these you may be partakers of the diving nature, having escaped
      the corruption that is in the world through lust.
•      Feed the new nature (see Jeremiah 15:16; John 6:48-58, 63; Acts 20:32; Colossians 3:16), and starve the old! (See Romans 13:14).
•      Count the old nature as dead, and the new as living!
       ✞      Romans 6:11 – "…you also, reckon yourselves to be dead indeed to sin, but alive to God in Christ Jesus our Lord." (See also Mark 8:34-38; I Corinthians 15:31).
       ✞      The best way to accomplish this is in all things, pray the prayer Jesus prayed in the Garden of Gethsemane:  "…nevertheless, not My will, but Yours, be done." (Luke 22:42).
If you follow these steps, you will be able to say what Paul wrote in I Corinthians 15:57 – even concerning those repetitive sins of your 'Groundhog Day' – "…thanks be to God, who gives us the victory through our Lord Jesus Christ."